British Airways Loyalty Scheme
As an Aspiring Snob, one of the best ways to get started is by signing up to the free British Airways Executive Club (BAEC for short). As the loyalty scheme for BA, the BAEC offers two forms of "currency" that you may earn and spend.

The first form of currency is in the form of Avios points, as part of the Avois Program. You may have seen these before, especially if you're based in the UK, and they can be earned from BA as well as oneworld alliance partner flights, shopping with partner sites and spending on a British Airways American Express card. It is also possible to buy Avios outright if you find yourself short.
Avois points can then be spent on a number of things such as in-flight items (duty free, food and drink), upgrades and of course, full flights, known as Reward Flights. Avios do not expire as long as you earn or spend at least one point within a 36 month period.
The second form of currency is called Tier Points (TP), and these are earned and spent in a slightly different manner. First off all, TP can only be earned by actually flying on a BA or oneworld flight. There is no other way. Additionally you only earn TP for yourself. So if you book a flight for you and your partner, you cannot get access to your partner's TP (but make sure they sign up to BAEC so it's not wasted!).
Tier Points are also spent in that they expire every 12 months from your joining date anniversary. TP are used exclusively to determine your (funnily enough) tier within BA and oneworld's loyalty hierarchy.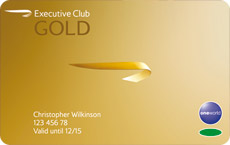 When you join, you are at Blue. 300 TP will get you to Bronze. 600 total will promote you to Silver, and finally 1500 TP will elevate you to Gold. While Bronze is nice, things start to get interesting at Silver with included access to BA Club Lounges, regardless of your ticket. Gold, however, is where the perks really start to kick in.
The best way to get TP and how many flights it will take is beyond the scope of this post. However you can compare the differences in tiers, and also find out how much TP each flight will earn you.