The Fable Tree at the Fat Duck
The Fable Tree is a Christmas themed menu and experience put together by celebrity British chef Heston Blumenthal. Like his other experience menus, The Fable Tree focuses on a journey; the journey of a seed as it grows into a Christmas tree and all the associated days and activities around that.
The Fable Tree experience is almost like attending an immersive theatre performance. The main difference being that you digest the elements presented in front of you. The experience has three main parts: The life and purpose of the Fable Tree, Christmas Day Dinner and Boxing Day.
We started this year with a visit to the Fat Duck. Given how the rest of 2020 went, when the opportunity came up to go again and experience The Fable Tree, we couldn't say no. Why could we not say no? Keep on reading…
Why The Fable Tree?
While possibly being the easiest question of all time for me to answer, there were genuinely reasons other than simply, "it's the Fat Duck!" Like with many people, 2020 has hit us hard and the activities we were used to doing, such as travelling and going to great restaurants, have been severely curtailed. Pre-pandemic we oftentimes brought ideas home and tried to incorporate them into our daily life. As you can imagine, this has barely happened this year at all. So my first reason for going was to try and catch up see what the greats are up to.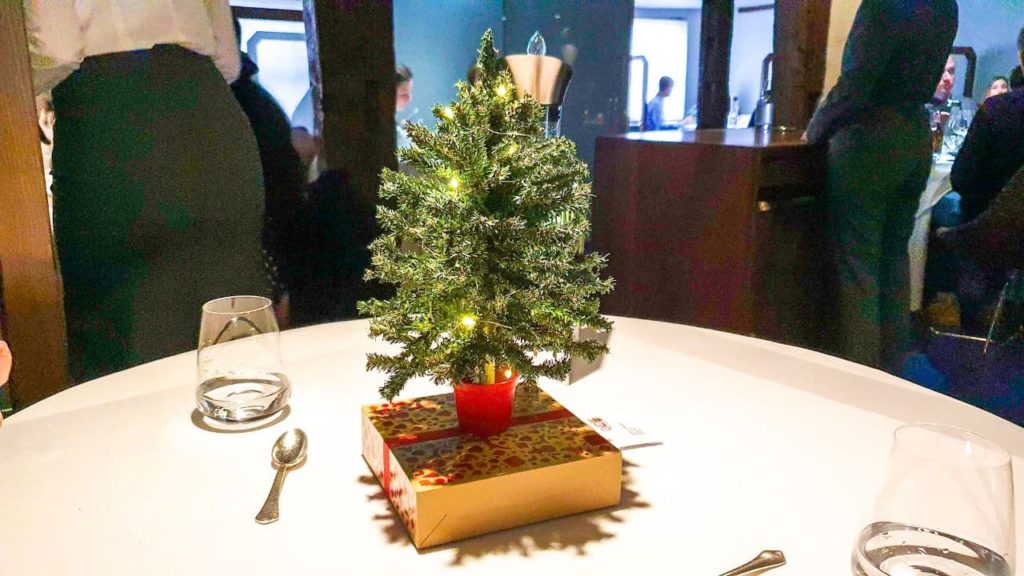 Due to lockdowns, restrictions, social distancing and other limiting factors, everyone's Christmas party plans have been subdued and ours are no different. For me, this was my main Christmas event (outside of Christmas Day). And if you're going to attend a Christmas event, then having 12 courses in a 3-star restaurant seems like a good way to me!
The Experience
The entire The Fable Tree experience is a story of a Christmas Tree told through dishes. Additionally, the accompanying narrative is designed to evoke your childhood memories. On top of that, the ingenuity and culinary talent is, as always with The Fat Duck, absolutely amazing and awe-inspiring. From recreating physical elements found in nature, to creating a dish that summarises Christmas Day, the whole event is packed with magic. As a result, you may easily be mesmerised by the whole affair. There are very few other restaurants in the world capable of marrying a strong narrative, incredible imagination and, ultimately what you want at a restaurant, such delicious food.
Not to spill all the beans, or seeds, here are a select few steps of the story of The Fable Tree.
You begin with the seed. Then your seed starts growing roots.
Then you chop the tree down and are left with the stump in the ground.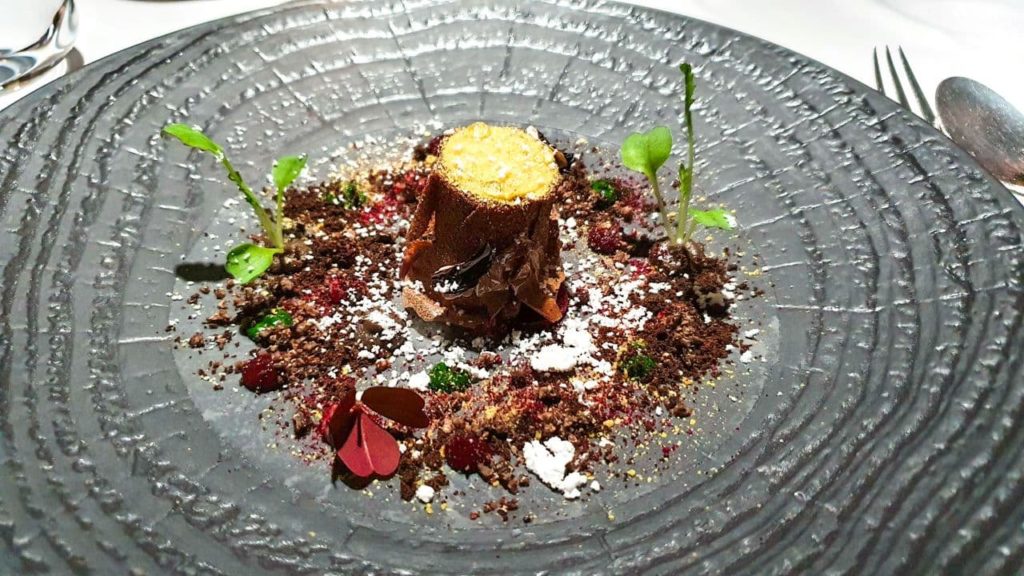 Your tree is delivered to your table where you decorate it. Once done, you move on to the Christmas Day dinner.
Christmas Day Dinner
A traditional Western Christmas dinner has the following stages: appetiser, main course and dessert. The Fable Tree's take on these courses within courses is nothing short of spectacular and pyrotechnical.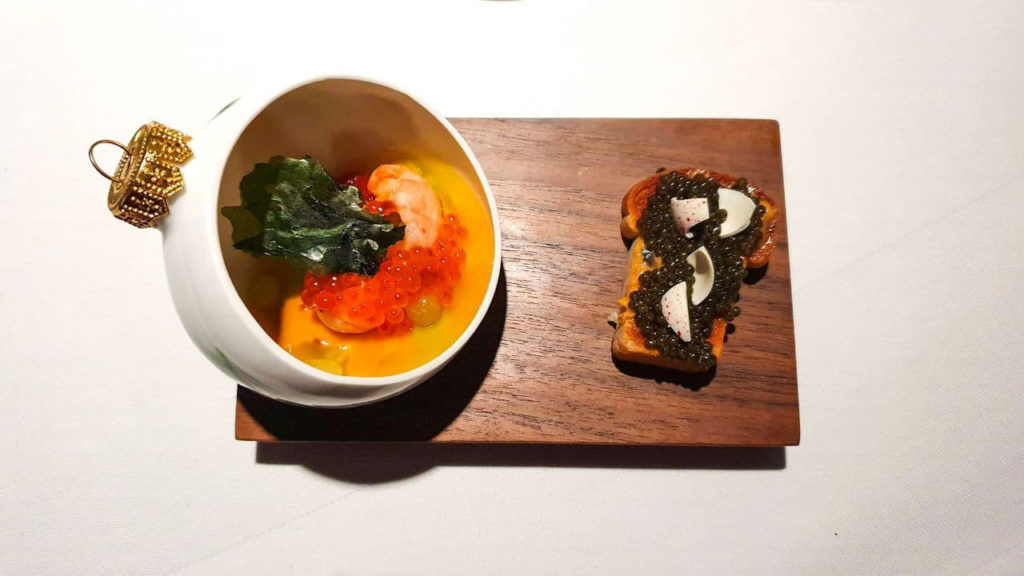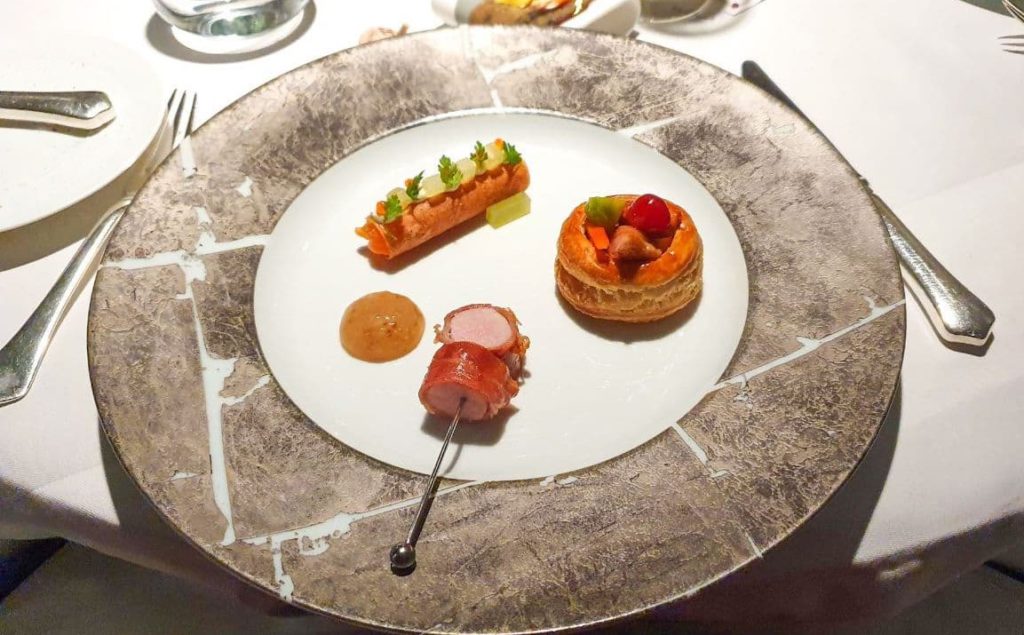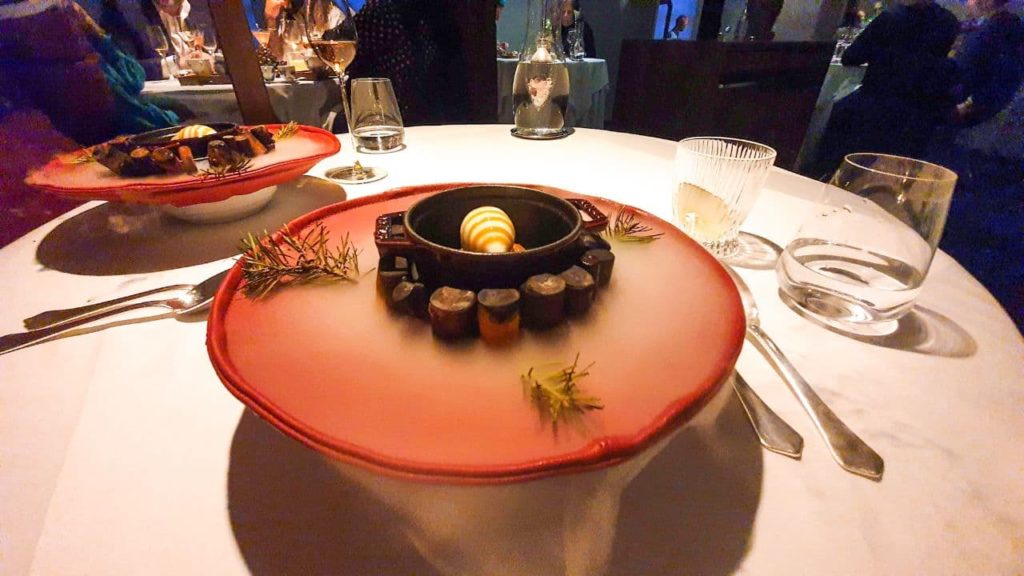 What you can't see here is that the Christmas pudding is on fire! And by on fire, I mean on fire with a cloud of liquid nitrogen underneath the pudding. After all it wouldn't be a dinner at the Fat Duck if there was no liquid nitrogen involved.
Boxing Day
The day after Christmas is usually one of rest and relaxation. Due to the feast the day before, it is also a day of leftovers. You simply open the fridge and eat whatever you can find in there. As part of The Fable Tree story, even Boxing Day has a place at the table, so to speak. The Fat Duck has one of the most well-stocked fridges in the country and even their leftovers are nothing short of spectacular!
Our leftovers were very intricate and meticulously constructed on our plates. We had beautifully cooked pork belly accompanied by turkey sandwiches on our plates. For dessert we had blue cheese and a fig. Only the flavours were swapped and on top of that, the fig-flavoured "blue cheese" was ice-cream!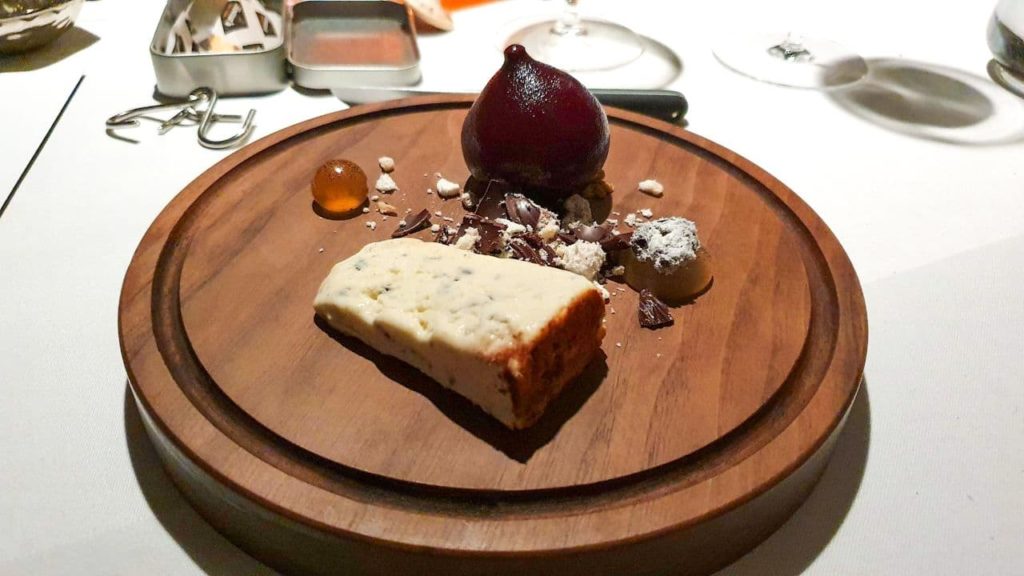 The Fable Tree Delighted Us
It was a delight to experience The Fable Tree. And not just because of the stories and food, but also what it meant at the end of 2020 to go to such an esteemed venue. All throughout the courses, we felt like kids being read a bedtime story which ended with the most delicious cup of spiced hot chocolate. The whole experience delivered the Christmas magic we needed. With our own little fable tree on our table we had a constant reminder of how important this time of year is. Afterwards I truly appreciated how good it is to be exposed to such inspiration, to aspire to inspire, and to learn how much you can brighten an otherwise dull reality with a good story!
Happy and healthy Christmas to you all!