Cool as a Cucumber – why Cucumber Clothing is ideal for travelling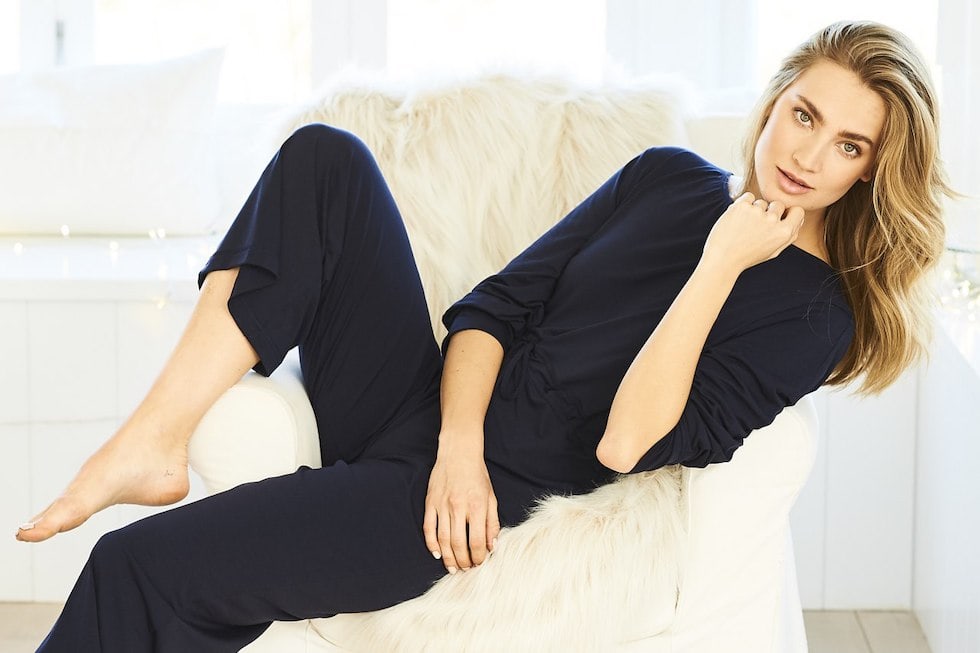 When travelling long distances, there are a number of aspects that travel providers (such as airlines or bus companies) do to help us become more comfortable, and therefore more likely to travel with them again. These comforts range from improved seating, lower cabin pressure (for aircraft) and entertainment units.
However, there's also a number of things that we, as travellers, can do, too. You've probably seen people with travel pillows or others in their pyjamas. Yet another thing that we can do to make our travelling lives easier and more comfortable is simply choosing the right material to wear.
When you travel, are you comfortable in what you normally wear? I know that I am usually not. Normally, during my travels I feel uncomfortable during some sections of the journey. It could be from various activities, such as carrying my luggage from one place to the next, moving swiftly through the departures terminal or sitting on the plane itself. I'm often feeling either too cold or too hot. I'm constantly looking for a jumper, putting it on, taking it off and all this while trying hard not to elbow the passenger next to me!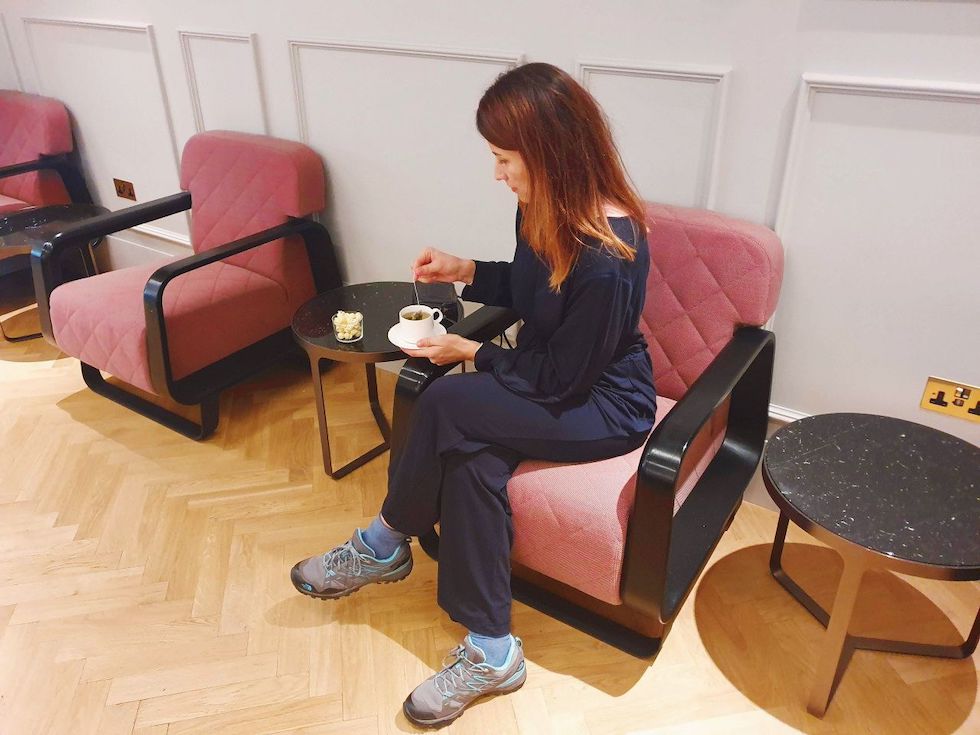 The good news is that I've found a solution. Cucumber, a small London based label, have addressed this problem with a special technology in the material they use in a range of clothing that would suit any female traveller. Originally designed for menopausal women to cater for body temperature fluctuations, Cucumber's innovative clothing is also ideal for women who experience external temperature changes such as on planes, trains and busses.
Cucumber Clothing is made from quality performance materials. The performance is generated from the way the yarn is processed. The yarn is cut into tiny fragmented pieces that mimic cotton's soft feel, while also providing the technical benefits of modern fabrics such as moisture removal and quick drying. This same technology has been applied to all of Cucumber Clothing's line and as a result reduces the humidity next to your skin and keeps you dry and comfortable in fluctuating temperatures.
I was very keen to try Cucumber clothes out myself on some of my upcoming travels. I was provided with two pieces of clothing to test, a cashmere mix jumpsuit and a pair of harem pants. I was very intrigued reading up on this thermoregulating and anti-crease slow fashion and couldn't wait to see what the clothes felt like on me! I wanted to know myself how this intelligent fabric works and how it would behave during a flight, as well as when you've been wearing it all day long during your travelling.
The texture of the material is soft and smooth and does not wrinkle. When wearing the clothes I felt very pleasant and cool. Each item is made to a high standard and there were no visible issues or problems throughout the test trips. While I would be unlikely to wear the two items I got to an elegant restaurant, during a journey they blended in perfectly and were easily accessorised with my own clothes and jewellery.
To give the clothes a proper road test, I wore the cashmere mix jumpsuit on a long haul flight of around five hours, and again in both directions of a short haul flight of over one hour to compare how I would feel between them. On the return of the long haul flight, I wore the harem pants with my normal top. Both of these flights also involved fairly lengthy car rides of around one hour each at both ends. In total I was travelling for about 20 hours while wearing Cucumber Clothing items.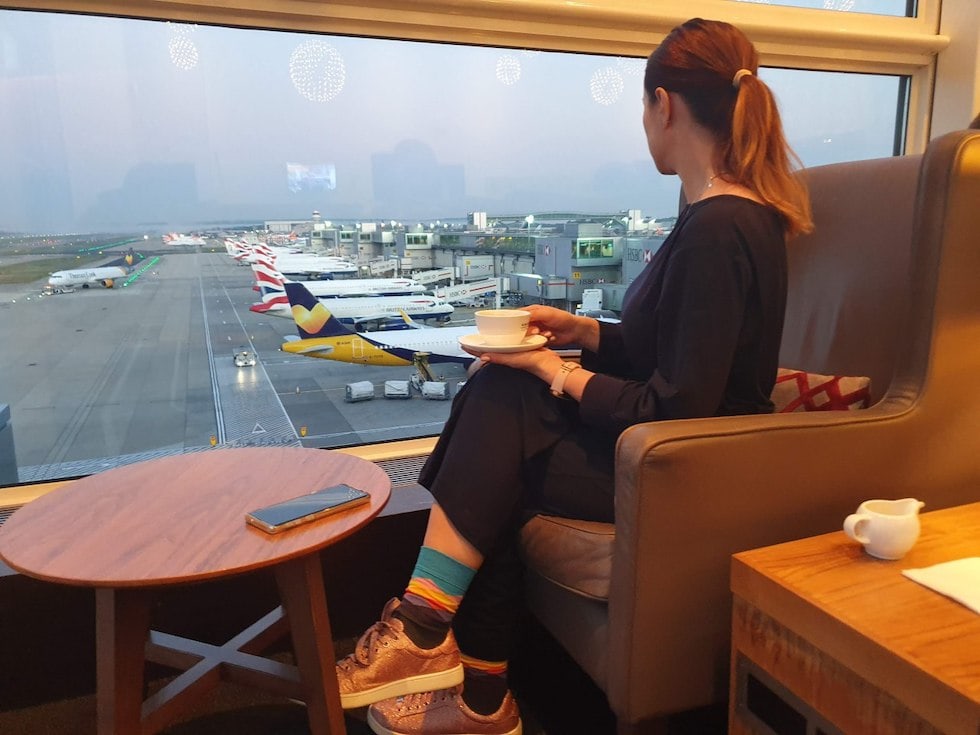 The results were incredible. On the return leg of the short haul flight, I was coming from 30C being dropped off at the airport in a car with no air conditioning. Even with my normal shorts and sleeveless shirt I would have been uncomfortable, however in the full jumpsuit I still felt comfortable and was not sweating. I was happy that I still felt so fresh when arriving at the airport and boarding onto the plane. When I got home, the clothes – and me – were still fresh and ready to go for my next trip.
The only downside I experienced was that the jumpsuit has a button with a tiny whole for it on the back which you have to open and close when you need to use the facilities. It is very difficult to button it back up solo. Luckily my husband was on hand to do it for me every time, but I would struggle if travelling by myself.
When wearing the items, I found them to be on the larger side. I requested a size 12 based on the measurements guide, however I should have gone for a size 10 as I found the fit to be too loose and baggy in some areas such as the arms. Of course when you travel, loose clothes are more comfortable so it really depends what you're after and the sizing guide may be correct for you.
Another unique feature of these clothes worth mentioning is the fact that they don't require regular washing. These clothes are smart in that they wash themselves by repelling moisture and dirt. Imagine the time, energy, soap and water saved, as well as the reduced environmental impact!
In fact, sustainability and slow fashion are at the core of the Cucumber. As Eileen from Cucumber says, "All of Cucumber's fabrics last up to six times longer than cotton, meaning longer wear and less waste. Their anti-crease technology means that they require little or no ironing, and they are hang-dry, helping to reduce energy consumption."
"Cucumber produces small runs, with a view to limiting fabric waste and avoiding ending up with dead stock fabric. All pieces are graded, sampled and manufactured locally in London: this means low transport emissions and easy access to ensure that factory standards are upheld", continued Eileen reinforcing Cucumber's view of sustainable and responsibly produced clothing.
If you have a short trip and carry-on luggage only, all you need is some Cucumber Clothing items that won't lose their freshness. You can wear them as many times as you want without the need to wash them. Not only does this save you space in your suitcase (as you don't need to pack as many outfits) but Cucumber Clothing's stylish range also has a number of items that can be worn in every day scenarios as well as for a journey.
For those that need to travel frequently, be it by plane, train or automobile, know that it is possible to arrive at your destination feeling comfortable and fresh, simply through the clothes that you wear. Cucumber Clothing has done an excellent job and offers a range of women's smart apparel to ensure that even with the stresses of modern day travel, you will remain cool as a cucumber.
If you hurry, there is a discount code ASPIRE15 unique to Aspiring Snob that will get you 15% off all items at the Cucumber website (limit one purchase per customer). Get in on this now as the code expires on the 11th of October, 2019!