Why Business Class can be cheaper than Economy
This article may seem ridiculous, but please do hear me out. There are some circumstances where a Business Class flight actually does cost less money overall than Economy.
Before starting into my main points, it is worth pointing out that it is possible to get cheaper seats in Business than in Economy due to demand on the aircraft. Let's say there's a flight within Europe that has one free seat in Economy while up front it's pretty much empty. In this case the Business seats will go for their normal price, but Economy will be two, three or even four times the price. This results in the unusual situation where Business is legitimately cheaper than Economy.

Of course this is quite rare, and I had to scroll through a few different destinations over a number of months each on the BA website to find this example. Still – it's nice when it happens and it coincides with your plans!
But let's talk about a more common scenario. You need to take a flight because of holidays, visiting friends and family, or work. In this scenario, we would want to focus on flights that are greater than two hours, and for at least one week. The reason for this is that a shorter flight and one that is hand-baggage only probably doesn't justify Business over Economy.
At this point let's look at a typical journey when flying Economy to somewhere nice, say Porto, Portugal, using BA as an example:
You turn up to the airport around two hours before your flight to checkin your luggage
You're standing in a long queue for the checkin counter
After checkin, you stand in more queues for security
Finally through security, you now have just over an hour to kill in the terminal before going to your gate
You idly do some window shopping and hunt around for a restaurant as you know there's no included food on the flight
After being squished next to another passenger for 2.5 hours, you stand around the baggage belt in Porto airport waiting for your luggage
You eventually grab your luggage and head off to enjoy yourself in sunny Porto
Now here's where some calculations come in. Probably one of the key ones is the luggage. You can see the full fare differences below, but bringing one hold bag of 23kg is £20 more than the hand baggage only fare. Also note if you turn up to the airport and need to check-in an extra bag without prior booking, that'll be £60 at the counter. You can often buy an extra 23kg bag in advance for around £20 however.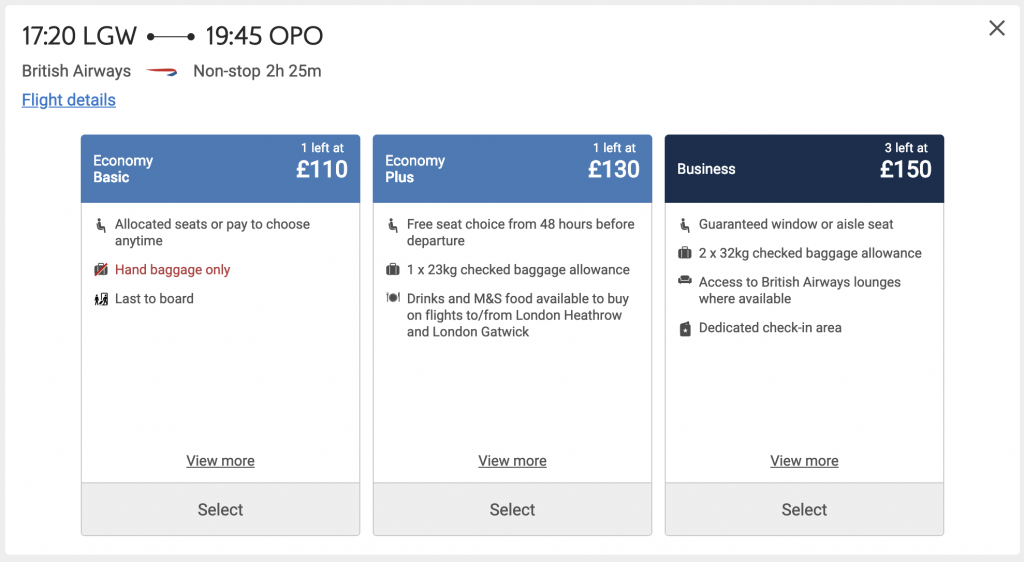 Next up is food and drink. We're heading to Porto, so let's try something "Portuguese" in the form of a cheeky Nando's (yes, I know it's actually South African – but work with me here!). You want to fill up a bit, so you go for a 1/2 chicken combo and a glass of Portuguese wine. That'll be £10.70 + £5. So £15.70 for an alright meal. And that'll be it until you are settled at your destination.
If you're a frequent flyer, you may have already seen, heard about or even been in one of the private departure lounges. These lounges not only offer food and drinks (albeit limited choices), but often better wi-fi than the terminal and also more peace and quiet. In Gatwick South terminal, the only real lounge is the No1 Lounge which goes for £40 unless you have Priority Pass.
Lounges can be a good investment if, for example, you need some quiet time for work. You can think of it as two hours in a lounge for £40 is £20/hour for the ability to work two solid hours before your flight. There is some good value in that. If it's a holiday with the family, you're probably less likely to want to drop £40 per family member for the privilege.
For a mere £5 more in pure monetary costs, you can get a much more enjoyable and inclusive travel experience
Back to the numbers, we can see that on top of my fare for £110, I'm probably spending another £15 on some basic food and drink, and then £20 per 23kg bag coming with me. 110 + 15 + 20 = £145. Not really too far off from the £150 for the Business class seat. Now let's talk about all the perks that money cannot buy.
While lounges for £40 can be worthwhile, with most airlines Business class seats include lounge access. That means you're already saving £40 per head. With this you will get a comfy place to sit, decent Wi-Fi, free food (usually a simple buffet) and unlimited drinks (both soft and hard – sometimes with some decent wines on offer, too!). Also normally you should get dedicated check-in areas and fast track security. Both of which mean skipping the normal queues, allowing you to spend more time in the lounge enjoying the included food and drink.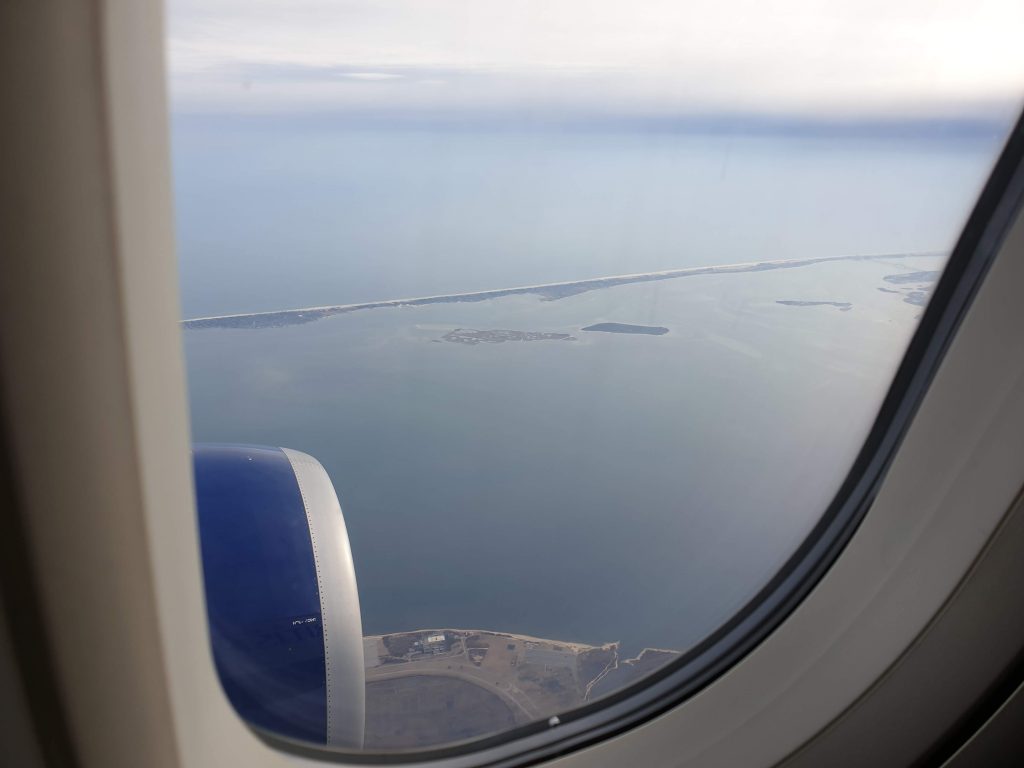 As you can see above, Business on BA includes two bags each at 32kg a bag. Note that's not a typo. Economy bags are 1 x 23kg, so 23kg per person (unless you pay more), Business give you a total of 64kg per person. Again, if you're travelling for a few days this might not be appealing for you. But if you're travelling with kids, a baby, you know you'll bring back mum's home cooked food – this alone can make it worthwhile.
Moving to the boarding phase, you'll be called in the first batch, or at least near the first, to board the aircraft. Remember all those times you've had to fight to put your bad in the overhead locker? Or walked down the whole aisle to find that one tiny empty spot? Those days are gone. By boarding first, you have plenty of time to find an empty overhead locker for your carry-on bags. Given that BA lock-off the middle seat on their short-haul intra-Europe flights, you have plenty of free space, too.
And that locked-off middle seat is great, too. This is how you get a guaranteed window or aisle seat, and also a guarantee that you won't (quite literally!) be rubbing shoulders with anyone. In fact some airlines, including BA, put a tray in the middle seat so you can dump your stuff there during the flight.
We've all heard about airline food. And while it has been steadily getting better over the decades, it's still not amazing – and this is excluding the fact that your tastebuds are less sensitive at altitude. However Business does normally give you a meal and access to the bar during the flight. Is it as good as a cheeky Nando's? Maybe. But it's included. So combining the food and drink from the lounge and the flight, you could get quite satiated by the time you land and don't need to go running to the nearest greasy diner next to your hotel.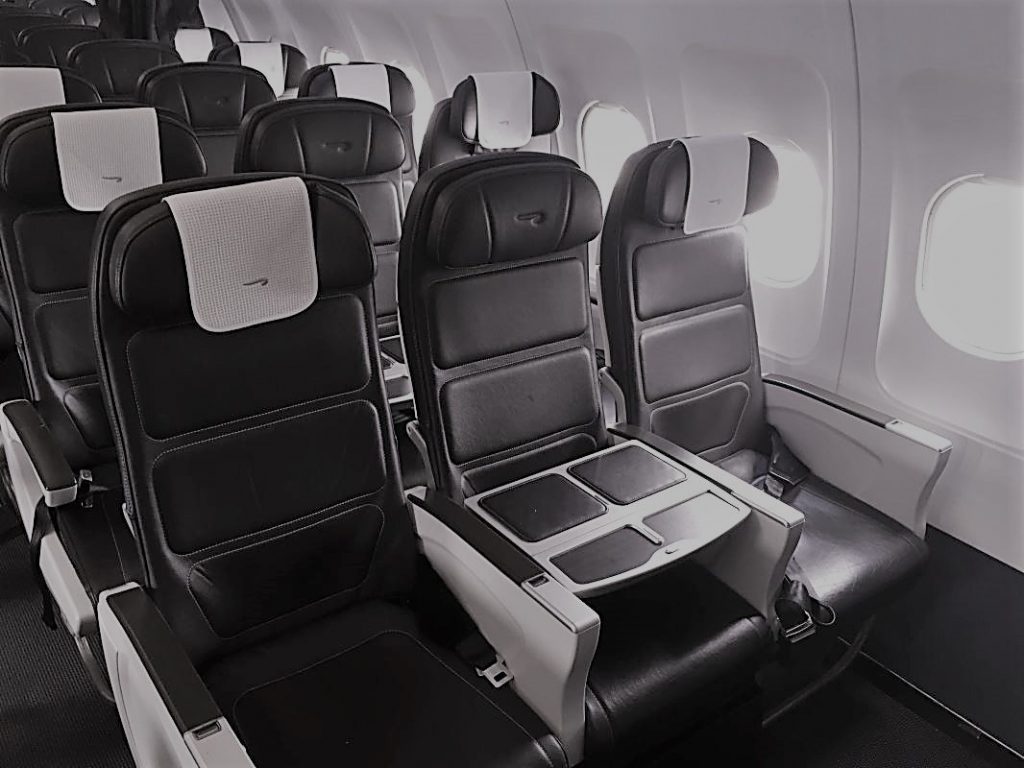 Once you've landed, normal practice is that Business class get priority luggage. This is simply a brightly coloured tag that tells the baggage handlers at the airport to load your bags onto the belt first. While this is technically a perk as you get to deplane first and in theory get your luggage first so you can be first to get to a taxi and away from the airport, the reality is that most airports struggle to honour the priority luggage tags. Best case is that you do get your bags first, worst case is that you get them randomly along with everyone else.
There are usually other perks related to loyalty schemes such as bonus airmiles and extra Tier Points. However that's more for the frequent traveller. If you're interested in my take on BA's own loyalty program, check out my article on them.
As we've seen, for a mere £5 more in pure monetary costs, you can get a much more enjoyable and inclusive travel experience. As said before, this is not always the best way to go, and of course you should never buy tickets outside of your budget. However don't be afraid to add up the sums of your total travel journey and see if that seemingly expensive Business class ticket isn't actually worth it.